First sign up for your 14 day Free Trial at http://www.kosmoscentral.com and follow the email instructions to setup your eSync account.
How to connect Revel to eSync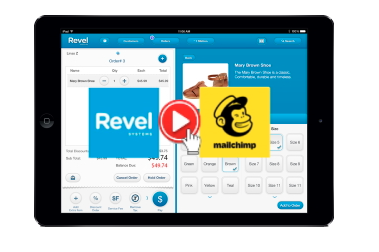 Next, log into www.kosmosesync.com, click on Create Action and then choose the Revel logo and follow the instructions to Authenticate your connection with your Revel POS username and password on the Grant Access Screen.
Then click on the MailChimp Logo and follow the instructions to the right of the Grant Access Screen to connect MailChimp to eSync using your MailChimp access Token. Simply click on your user icon at the bottom left of the screen, then Profile, Extras and API Keys.
Enter your Key as instructed on the Grant Access Screen below.
A list of Actions can be found below

Next, learn how to create new Revel customers in MailChimp.
If you'd like to purchase a support package, you can do so here.
If you have further questions, please post a ticket in our Help Desk